Our staff's commitment to you
Our staff is committed to providing support, compassion, information, and direction as needed to all members of our community, their families, and friends who are dealing with loss and grief.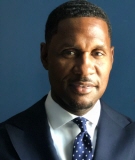 Lenwood J. Jones
Licensed Funeral Director/Owner
ljj.lenwoodjonesfh@gmail.com
Lenwood's journey began in Steelton, Pennsylvania (a few miles from Harrisburg). Family friends, who owned a prestigious funeral home in the area, trained him as a teenager. It was during this time that he learned the inner workings of the trade and felt a call on his life to help grieving families in their time of loss. At the same time, he was a rising football star. This talent gained him a college scholarship to California University of Pennsylvania and gave him hope of a professional football career. But the desire to help people in funeral service was greater.
Lenwood began his funeral service journey at Northampton Community College in Bethlehem, PA studying Mortuary Science. He probably would have returned home to Steeleton, PA after graduation but the promise of better opportunities drew him to Philadelphia.
Much his surprise, his career in funeral services had a rocky start because it was so hard finding an apprenticeship in Philly despite the plethora of funeral homes. But thankfully, he didn't give up! Under God's grace, one phone call of introduction from a generous, thoughtful funeral director set the stage for Lenwood to be who he is today.
Lenwood Jones Funeral Home was birthed out of his call, his love for the people he serves and a tenacious drive to succeed. Lenwood aims to take lessons learned during his journey to give all families in the Greater Philadelphia region a memorable experience, a lasting relationship, and a funeral service that cares about healing along the grief journey. The funeral home takes great pride in being trusted to serve all faiths and all traditions, at the current Girard Avenue location or at the families' chosen place of worship.
Lenwood has memberships with Alpha Phi Alpha Fraternity, Inc., Prince Hall Lodge #57 and National Funeral Directors & Mortician's Association/Quaker State Funeral Director's Association.
He is the father of four children.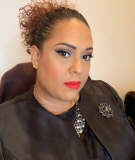 Tiffanie C. Wood
Licensed Funeral Director
tcw.lenwoodjonesfh@gmail.com
Tiffanie was born and raised in Stroudsburg, Pennsylvania until the age of 12 when she and her family moved to Philadelphia. She spent the remainder of her junior high school years at St. Rose of Lima School in West Philadelphia. She attended and graduated from Northeast High School, Class 152 in 1993. In 1996, she matriculated to Northampton Area Community College and it was there that she received her degree in Mortuary Science in 1998. She has been a licensed funeral director in the state of Pennsylvania since August 1999.
She also received her PA Insurance license in January 2020 and currently is an agent with Homesteaders Life.
From 1998-2007, she was employed with her family firm in West Philadelphia. She decided to explore other funeral service related careers and landed a position as the manager of a crematory in King of Prussia, PA from 2007-2009. She then returned back to Philadelphia and worked with a firm until 2013 when she decided it was time to make the venture into owning and operating her own funeral establishment. T.C. Wood Memorial Home was opened in November 2013 in Southwest Philadelphia. After much consideration, she made the decision to close the business and has been employed full time with Lenwood Jones Funeral Home since 2014.
Tiffanie is a member of Epsilon Nu Delta Mortuary Fraternity, Inc., National Funeral Directors & Morticians Association/Quaker State Funeral Directors Association and Continental Societies, Inc.
She is the mother of one son.